The company Hermann Albers Obst & Gemüse GmbH has its beginnings in the early 20th century. Great-grandfather Hermann Albers was at this time gardener and drove his own products to the former wholesale market, the Deichtormarkt. The goods were brought from the company's headquarters in HH-Kirchwerder east of the city by ship to Deichtormarkt.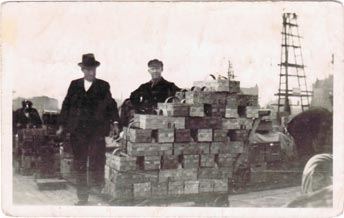 Company founder Hermann Albers 1930 with a customer This trading system was used for decades. Later, the trading was continued in what is known today as the Deichtorhallen. After the death of my great-grandfather in 1956 his wife formally took over company. But tradesman was in fact my grandfather Heinrich Albers.
Moving to the wholesale market halls
1962 after completion of the current wholesale market in Hammerbrook grandfather Heinrich increased more and more trading in fruit and vegetables. In the seventies the marketingof their own vegetables declined steadily and trade became more and more important. Grandfather Heinrich took over the company in 1968. At that time father Hermann Albers already headed horticulture, and Heinrich Albers was mainly responsible for the marketing of own and others' goods.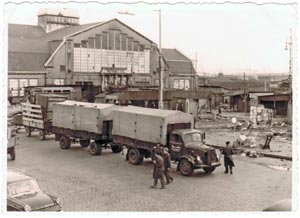 Trucks ousting the barge business also reflected in the fruit and vegetable trade
Change of trade through the ages
In 1980, father Hermann Albers took over the company. Now the main focus was on the supply of food retailers. After the boom of reunification in the nineties a slow restructuring of trade took place. The food retail joined together more and more to large corporations.


Interesting detail: basketry were principal bundle, today there are stacking boxes As Ralf Albers joined the company in 1995, he opposed this trend by shifting trade towards many small customers. Suppliers to the catering were a large part of the clientele. In 2001, a market-based potato wholesaler was acquired.
Market opportunity as a full range supplier
Hermann Albers handed over the company in 2003 to Ralf Albers, the current owner. Since 2005, the range of tropical and exotic fruits has been expanded since 2008. It is rounded off by the trading with mushrooms of all varieties. Today this company is one of the few full-range suppliers at the Hamburg Wholesale Market.